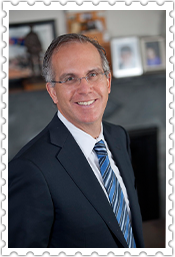 Howard Ankin
Owner and Partner, Ankin Law
10 N Dearborn, Suite 500
Chicago, Illinois 60602
Phone: (872) 529-9377
E-mail: Email Me
Fax: (312) 346-8781
Howard Ankin
A third generation lawyer, Howard Ankin has known many of his clients since he was a child. They descend from family members, friends and co-workers of his father and grandfather; many recall him as a young boy accompanying his father to court on school breaks. Deep passions for justice and the law are not just part of Howard's professional life, they have been engrained in who he is since he was born.
Today, Howard owns Ankin Law – which has flourished since it was founded over 12 years ago – alongside his father and partner, Paul B. Ankin. With extensive experience practicing personal injury, workers compensation, wrongful death, social security disability and criminal and civil litigation, Howard has devoted his professional life to seeking justice on behalf of his clients and perpetuating the tradition of the Ankin family providing superior legal support for all of its clients.
By his third year of practice, Howard recovered $1,000,000.00 for his client in Latta vs. Village Green Associates. Today, he has countless victories to his credit. But Howard's greatest professional accomplishment continues to be the stability and hope he brings his clients by securing their livelihood through legal victories.
Howard Ankin prides himself in representing his clients as their friend and attorney, providing quality referrals for legal matters outside of his practice areas. His investment in the Ankin Law is evidenced every day as families throughout the Chicago area and Illinois return to the firm for legal guidance at all stages of their lives.
Current Employment Position(s):
Owner and Partner, Ankin Law
Licenses:
Illinois State Bar Association (1993)
U.S. District Court, Northern District of Illinois (1993)
U.S. District Court, Central District of Illinois (1994)
Education:
Bachelor of Science – College of Communications from the University of Illinois – Champaign/Urbana
Juris Doctor from John Marshall Law School
Professional Associations:
Illinois Trial Lawyers
Illinois State Bar Association
Chicago Bar Association
Work Injury Lawyers Association
Work Injury Lawyers Guild
Decalogue Society
Friend of Labor and Labor Locals
Standard Club of Chicago
John Marshall Law School Alumni Board
Awards & Recognition:
Award of Gratitude, Chicago Teamsters Hispanic Caucus
Apostle Jackson Outstanding Service Award