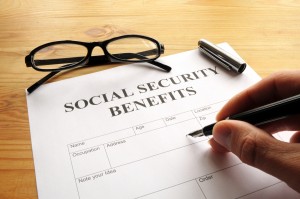 Individuals who are eligible for Social Security Disability Insurance will receive benefits based on their average lifetime earnings. These payments can range from $700 and up to $2,687 per month. On average, recipients receive payments of $1,171 per month.
Calculating Benefits
Benefits are calculated based on the amount of Social Security taxes the individual has paid into the system. Essentially, the individual's income over a period of years is indexed to determine the average monthly amount of Social Security taxes that have been paid. This figure is known as the AIME.
The AIME is then used to calculate the Primary Insurance Amount. This is the base figure the Social Security Administration uses to determine the monthly payment an individual is entitled to following the onset and diagnosis of a qualifying disabling condition.
As such, it is crucial that individuals check the information that the Social Security Administration has on file for them. This information can be checked by the individual or their Chicago Social Security attorney.
Collecting Additional Benefits
It is not possible to collect SSDI and Social Security benefits at the same time. However, it is possible to collect many other benefits without the income from these benefits reducing the amount of SSDI that an individual is eligible to receive.
Individuals may collect VA disability benefits or disbursements from private disability insurance plans. While individuals may also receive workers' compensation benefits, if the amount of the workers' compensation benefits combined with SSDI exceed 80% of the individual's income prior to the disability, then their SSDI benefits may be reduced. When the workers' compensation benefits cease, the SSDI payments will be increased to their previous level.
The Impact of the Backlog
Benefits can be severely delayed if an individual's claim is denied and a hearing is set during the appeal process. The current wait for a hearing is more than 526 days and the recent hiring freeze may worsen this backlog.
Fortunately, if an individual's claim is approved during the appellate process, the individual is entitled to back payment of benefits. This will be calculated based on the date of the application as well as the date of the onset of the disability. These back payments may be made in one lump sum payment, or they may be broken into three payments spread six months apart depending on the amount of money that is due to the applicant.