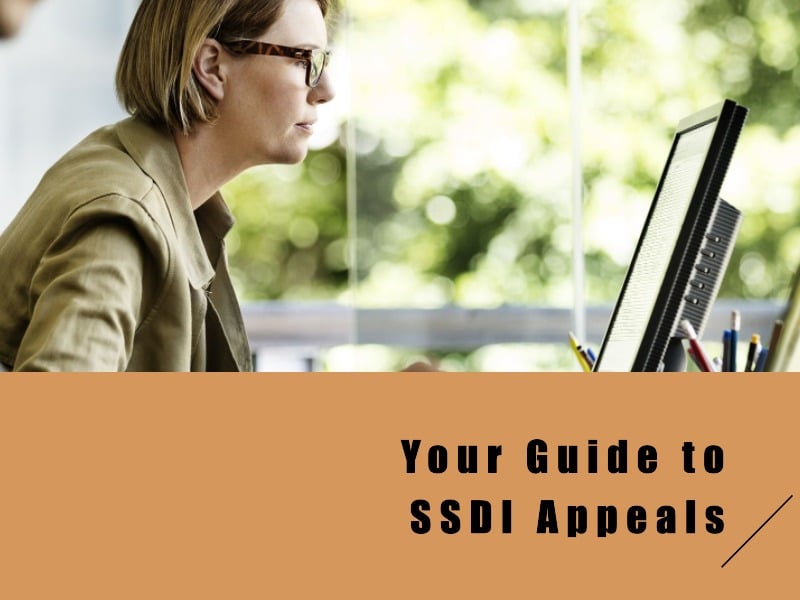 When you need Social Security Disability benefits in Illinois, getting a denial letter can have a significant impact on your finances and livelihood. You can appeal that decision through the SSDI appeal process. To do so, you must follow the SSA guidelines, submit complete and accurate information, and meet all required deadlines set by the Social Security Administration.
How Many SSDI Claims Are Denied?
Due to strict federal regulations, getting SSDI or SSI benefits is often a complicated and lengthy process for many applicants. It's estimated that more than 50% of initial claims are denied because SSA guidelines are not followed. In 2021, statistics in Illinois indicate that the initial disability application approval rate was only 37%. The approval rate at the reconsideration level was just 12%. Most claimants who go through the appeal process and obtain benefits finally win during and the ALJ hearing. The approval rate for this stage is approximately 51%.
The Most Common Reason for an SSDI Claim Denial
Unfortunately, more than 50% of Social Security disability claims are initially denied by the SSA, and most claims denials happen because of a lack of necessary information to validate the claim. The most common reasons for an SSDI denial include lack of the applicant's required personal information, lack of the applicant's required medical evidence or medical records, the applicant's insufficient work history or work credits, and the applicant's failure to respond to requests for additional information.
Required Personal Information
To process an SSDI claim, the SSA needs your personal information to verify your identity. This information includes:
Your date and place of birth
The name and date of birth of your current or former spouse
Dates and places of marriage and/or divorce or death of a spouse
The Social Security number for you and your current or former spouse
The names and dates of birth of children under the age of 18
Your financial institution or bank account number and routing transit number
Required Medical Evidence
When filing for disability benefits, your medical condition is the most important factor used to determine whether you qualify. To approve your claim for benefits, the SSA looks closely at your illnesses, injuries, or medical conditions that contribute to your disability. This medical evidence usually includes:
Your physician's name, address, and phone number
The severity of your disabling medical condition
The dates of medical treatments, tests, or procedures
The names and prescribed amounts of prescription medications
When determining whether a condition qualifies you for disability benefits, the SSA refers to the Administration's Blue Book. This is a directory with the names, symptoms, and impairments caused by certain illnesses and injuries. Your medical records are examined to compare your medical condition to those listed in the Blue Book. If your medical condition is not on the list, SSA will compare your condition to similar medical conditions that are on the list.
Required Work History and Work Credits
The SSDI program pays benefits to qualified workers and their eligible family members, including a spouse or divorced spouse, children, and adult children who became disabled prior to age 22. The amount of monthly disability benefits is based on the Social Security earnings record of the insured worker. After receiving disability insurance benefits for two years, the worker will automatically get Medicare coverage. In some cases, like when the person's condition is terminal, the two-year waiting period for Medicare may be waived.
To qualify for benefits, a worker must have a work history, pay Social Security taxes, and earn a certain number of work credits during the course of employment. Generally, a worker needs 40 work credits, (20 credits earned in the last 10 years), ending when the worker's disability began. However, younger workers may qualify with fewer credits. In 2023, a worker earns 1 Social Security and Medicare credit for every $1,640 in covered earnings per year. To gain 4 credits for the year, a worker's earnings must be at least $6,560.
Requests for Additional Information
Once you submit an application for SSDI benefits, it's important to follow up on the status of your claim. If you get a request from the SSA to provide additional information, do it right away. Delays can slow down your claim approval or even result in claim denial. You can file an online application and submit the necessary documents online if the following applies:
You are 18 years old or older
You are not receiving current benefits on your own Social Security record
You are unable to work due to a medical condition that's expected to last at least 12 months or result in your death
You have not been denied for disability within the last 60 days
If you mail the required information or documents, you must include your Social Security number in any correspondence. Do not write anything on your original documents. Instead, write your Social Security number on a separate sheet of paper and include it in the mailing envelope along with your documents.
Stages in the SSDI Appeal Process
If your initial SSDI claim is denied, it's important to begin the SSDI appeal process as soon as possible. Don't file another claim unless your condition has changed significantly, because doing so will cause the process to start over, and it will significantly delay your benefits. Your SSDI lawyer can help you understand more about what happens when you appeal disability, how to handle the SSDI appeal process, and what to do if you disagree with your SSDI determination.
A Request for Reconsideration
If your initial disability claim is denied, you will receive a notice of denial from the SSA. You then have 60 days from the date on the notice of denial to make a written "Request for Reconsideration." During this process, the SSA may ask you to submit to further medical examinations that may involve doctor's visits, medical exams and test procedures, and medical treatments to verify your medical condition and disability. You may be assigned to a specified physician who performs medical evaluations and procedures for the SSA to qualify for disabilities.
A Request for an Administrative Legal Hearing
If your claim is denied at this level of the SSDI appeal process, you will receive a second notice of denial from the SSA. You then have 60 days from the date on the notice to make a written "Request for an Administrative Legal Hearing" before an administration legal judge (referred to as an ALJ) who conducts legal hearings for the SSA. During this legal hearing, the ALJ may call upon medical professionals, medical experts, and vocational witnesses to testify on pertinent matters. Your disability attorney will have the opportunity to cross-examine these witnesses during the court hearing. The intent of a legal hearing is to validate a credible Social Security disability claim.
A Request for Review by the Appeals Council
If your Administrative Legal Hearing does not have a successful outcome, you can then "Request a Review by the Appeals Council." You have 60 days from the date of the legal hearing to make a written request for this review. Common reasons for a review by the Appeals Council include mistakes made by the ALJ; an ALJ decision not supported by substantial evidence; or an indiscretion or abuse during the ALJ hearing process. Once the review is completed, the Appeals Council has three choices: They can (1) validate the ALJ's decision, (2) send the case back to the ALJ for further consideration, or (3) approve your disability claim.
File a Federal District Court Action
The last option in the SSDI appeal levels is filing a federal district court action. You can file a civil action with the U.S. District Court where you live. If your "Request for Review by the Appeals Council" was not successful, you must file a civil lawsuit within 60 days. Once you have filed your civil lawsuit, you must mail copies of your complaint and the summons issued by the court to the SSA's General Council office in your area. Your Social Security disability attorney can help you file this legal action in court, oversee the court process and SSI appeal timeline, and make sure copies get to the appropriate General Council office.
Steps in the SSDI Appeal Process
SSA disability status depends on a person's ability to work. To make this determination, the SSA investigates a person's impairment to see if the impairment prevents that person from substantial gainful activity (SGA). This means the money that a person can earn by working, even with a disability. If a person is found capable of SGA even with his/her impairment, he/she will not be determined to be disabled. To determine disability status, the SSA looks at the severity and duration of impairment, present work ability compared to past work ability, and residual functioning capacity.
Social Security has formalized a five-step sequential evaluation process to determine if a claimant should be entitled to Social Security Disability benefits (SSDI). Most judges use this five-step process when reviewing claims during the SSDI appeal process.
Step 1 – Have You Been Unable to Work for 12 Months?
SSA guidelines state that a worker must be out of work or expected to be out of work for at least 12 full months. If an applicant is working and his/her gross earnings average more than $1,040 each month, he/she will not be eligible for SSDI benefits, even through the SSDI appeal process.
Step 2 – Do You Have a Severe Medical Impairment?
The medical evidence or records provided to the SSA must indicate a severe medically determined impairment as compared to the Blue Book. If your medical condition is determined to be severe, you will likely be approved for disability benefits. Blue Book impairments include a wide range of physical and mental conditions that impact the level of a person's disability.
Step 3 – Does the Severity of the Impairment Meet the Listings?
Under federal guidelines, the SSA compares your medical condition to its "Blue Book Listing of Impairments." Conditions are based on physical or mental symptoms, levels of pain, and levels of impairment. A disability or medical condition must be severe enough to limit an applicant's ability to do routine work activities and basic tasks such as sitting, standing, walking, lifting, and stretching or reaching above the head.
Step 4 – Can You Perform Prior Relevant Work Duties?
A disability or medical condition must prevent the worker from performing his/her prior work duties before the disability or medical condition occurred. If previous work duties can still be done, you will not be eligible for SSDI benefits. Prior relevant work is based on work within the past 15 years. Prior relevant work is classified into 4 categories: (1- Sedentary work, (2- Light work, (3- Medium work, and (4- Heavy work. Work duties are based on physical exertion levels which cause pain or discomfort in movements.
Step 5 – Can You Perform Other Types of Work Duties?
Your age, education, work skills, prior work experience, and medical condition will be evaluated by the SSA to determine approval for SSDI benefits. If you are undergoing treatments by a licensed physician and found to be incapable of performing other types of work duties, you will likely be considered disabled and eligible for disability benefits.
The SSDI Appeal Process: Your Chances of Winning
The greatest number of disability applicants who obtain benefits do so at some point in the SSDI appeal process. Your chances of winning benefits during the SSDI appeal process increases significantly when you hire a disability lawyer to handle your claim. People who try to appeal SSDI benefits denials without legal help often struggle with strict deadlines, legal terminology, and lack of familiarity with the SSDI appeal process.