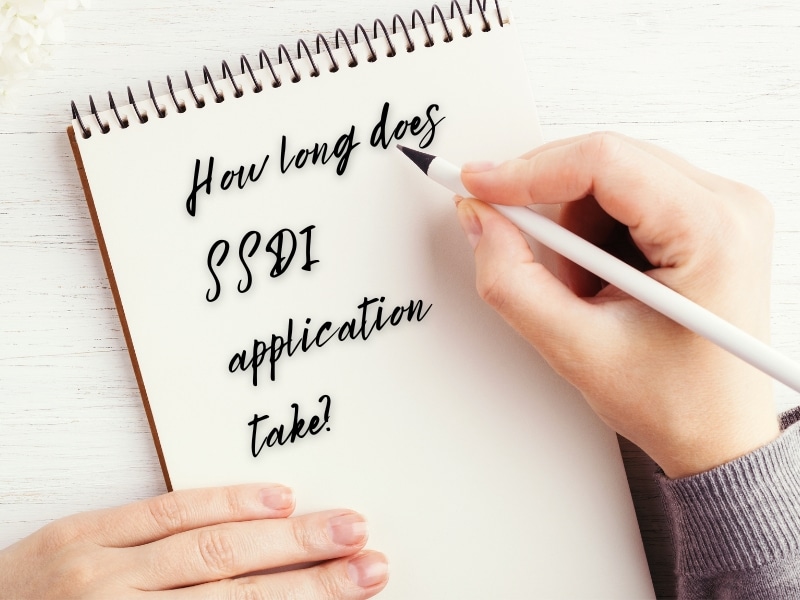 When you file for an SSDI application, how long does SSDI application take? The normal wait time to receive a decision is 3 to 5 months, but the wait may be longer depending on how long it takes for the Social Security Administration to receive necessary evidence to support your claim.
What Can Influence Wait Times?
When you file a claim for Social Security disability benefits, it generally takes about 3 to 5 months for the Social Security Administration (SSA) to make a decision on whether you qualify for benefits. However, it may take longer because the SSA has to obtain important information to support your claim before making a decision. To reach a decision, the SSA must first review your medical condition, work history, work credits, and receive documentation that shows proof of necessary SSA requirements.
Medical Records
When filing a claim for Social Security disability (SSDI), your medical records are essential to prove your medical condition. The SSA has strict requirements and guidelines for all SSDI claims. Medical evidence that supports your medical condition must be submitted by a licensed physician who is treating you, and the evidence submitted must support the following four SSA guidelines:
The medical condition meets the SSA's definition of a disability in the SSA Blue Book listings under Part A or Part B
The medical condition has been ongoing for at least one year, or expected to last for one year or more, or is expected to result in death
The medical condition prevents the claimant from working or engaging in any type of substantial gainful activity (SGA)
The medical condition prevents the claimant from performing his or her previous work duties or any other work duties
Work History and Work Credits
SSDI benefits are available to workers and their families when the worker meets certain work history requirements. The worker must be employed by jobs that are covered by Social Security, the worker must pay Social Security taxes, and the worker must earn a certain number of work credits. Generally, a worker needs 40 work credits, 20 credits earned in the last 10 years, ending when the worker's disability began. However, younger workers may qualify with fewer credits. Starting in 2023, a worker earns one Social Security and Medicare credit for every $1,640 in covered earnings per year. To gain 4 credits for the year, a worker's earnings must be at least $6,560.
Steps to Speed Up the Decision-Making Process
You can submit your application to the SSA by mailing your documents, calling or visiting a local SSA office, or submitting your documents online. You can also contact a disability lawyer who can file your application for SSDI benefits, submit necessary documents, and followup with SSA on your claim status.
To speed up the decision-making process, it's important to follow these basic tips:
Fill out your application completely and list all doctors you have seen about your medical condition. Provide contact information and exam dates for all doctors listed.
Include all medical records with your application to prevent SSA from having to contact your doctors for necessary information.
Get letters from all doctors who are treating you for your disability. Each letter should explain your medical condition, as well as how your condition prevents you from working.
Check on the status of your application regularly, either on the SSA website or by talking to a representative. This is important to make sure the SSA is reviewing your application and does not need additional information. If you file your claim online, you can sign in to your online "my Social Security account" to check your claim status, review the process, and see when a decision date is expected.
Individuals who are out of work and incapable of returning to work because of a disability may submit dire needs requests to SSA. SSDI applicants who meet these requirements may be facing financial hardships without a regular income or disability benefits.
Individuals with long term disability who do not have a long-term disability insurance policy in place are usually dependent on SSDI benefits to cover their financial needs. The SSA does allow SSDI benefits for individuals with long-term disabilities, but short-term disabilities and partial disabilities do not qualify for SSDI benefits.
How to Determine Eligibility for Fast Track Decisions
To speed up the application process and get a faster decision, you must submit all required information and documents to the SSA. If any required information is left out of your application, your process and decision time will be longer than the average wait time of 3 to 5 months.
Unfortunately, more than 50% of Social Security disability claims are initially denied by the SSA, and most claims are denied because of lack of necessary medical evidence and medical records, failure of an applicant to follow a prescribed course of treatment by a doctor, insufficient work history or work credits, and failure of an applicant to respond to SSA requests for additional information.
If you filed an application and your claim got denied, it's important to file an appeal. You can file an appeal for a Reconsideration, an Administrative Law Hearing, a Review by the Appeals Council, or in Federal Court. When your SSDI claim is denied, you have 60 days to request a hearing or you will have to start over with the claims process from the beginning.
When the SSA makes a determination on your claim, you will receive a letter by mail stating whether your claim was approved or denied. If your claim was denied, you have the right to appeal the decision, must you must do it within 60 days after receiving the letter. If your claim was approved for SSDI benefits, there is a required 5-month waiting period. Your SSDI payments will begin on the 6th month.