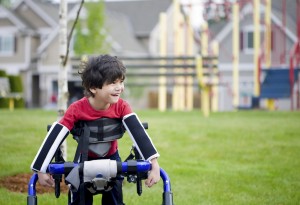 Cerebral palsy, or CP, is a group of disorders that impair a person's ability to control movement. This condition affects many children in Illinois. According to the Centers for Disease Control and Prevention, CP is the most common childhood disability in the U.S. As a Social Security attorney understands, CP can be disabling, given its effects on movement, vision and cognition. Fortunately, children who suffer from CP may be eligible for Social Security Disability benefits.
Childhood criteria
Children afflicted with CP may be eligible for Supplemental Security Income benefits if their families have low income. Besides meeting income requirements, these children must fulfill specific medical criteria.
The Social Security Administration considers CP disabling if it severely limits a child in walking or performing fine motor tasks. Alternately, the SSA may find a child disabled if the child experiences moderate motor control issues and one of these symptoms:
Problems with vision, hearing or speech that result in significant difficulty communicating
A seizure disorder that manifested at least once during the 12 months before the date of application
A nontrivial emotional or behavioral disorder
An IQ of 70 or lower
The parents of children seeking SSI for cerebral palsy must obtain medical documentation that clearly establishes these impairments. Along with a diagnosis from a qualified professional, parents should supply results from objective tests and statements from treating physicians.
Presumptive benefits
Children with cerebral palsy may be eligible to receive presumptive disability benefits. These advanced SSI payments are disbursed during the claim review process. Presumptive benefits aren't available to every SSI applicant. The SSA only allows people who suffer from certain recognized conditions, including cerebral palsy, to request these benefits.
As a Social Security attorney could attest, these benefits may last for up to six months. If a claim is later denied, the applicant is not responsible for paying back presumptive benefits.
Adult children
Once children with cerebral palsy turn 18, they are evaluated under the adult criteria for cerebral palsy, as a Social Security attorney knows. The condition must cause one of the four symptoms previously described, along with chronic motor dysfunction. This dysfunction must manifest as tremors, paralysis or weakness. It also must cause the child difficulty walking, completing fine tasks or making gross movements.
Qualifying adult children may continue receiving SSI benefits, or they may become eligible for Social Security Disability Insurance benefits. Adult children who have worked may qualify to receive SSDI benefits based on their own earnings. A child whose parent collects SSDI benefits may also qualify for an "adult child's benefit." This benefit is based on the parent's earnings but paid directly to the adult child.